We can all agree that having a website is a necessary part of owning a business.
While it is an important part of your marketing toolbox, it's sometimes easy to forget that they need a little love and attention to make them successful.
Think about your website the way you would think about your haircut. When you walk into a big business meeting with a bad haircut, it reflects poorly on you and your company.
But it's not just enough to have the same hairstyle for all your life.
Trends come and go, and although you may love rocking the 90's mullet, at some point, it stops being a positive statement to your customers and clients.
Your website is your biggest marketing tool and often the firsts thing people look at when researching your product. It's often your first interaction with customers, so it needs to be a good one.
It turns out that updating your website can have a substantial effect on your business. It's essential to give your company a haircut that is on-trend but will last a long time without needing much more than a trim.
In today's post, I'm going to show you some of the signs you should update your website.
---
1. Your Site is Hard to Update
For most businesses, a website is no longer a one-and-done development situation. Because your marketing initiatives change over time, your website should too. It has become more necessary than ever to update your content often.
Ensuring you have new content shows your clientele that you are engaged in their experience, and keeps your website looking fresh and clean. No one wants to visit a web page that feels dated or neglected.
Web development has come so far in the last decade; it's common to see websites developed on a platform that is rigid and difficult to change.
If your team doesn't include a web developer, you will want something that's going to be easy to update when you want.
You might be wondering: 
What if I don't know anything about website development?
Thankfully, there are plenty of no-code and low-code options available now that allow you to make some fantastic designs with just a few clicks. A computer science degree is no longer a requirement to build a website or to update one.
When considering a content management system (CMS), you want to find one that will allow you to "future proof" your site, without having a huge learning curve for your team. It needs to be built to support the newest devices and browsers.
The platform also needs to evolve with trends and add improved features and functionality over time. After all, you don't want to have to replace the platform every time you need a website update.
The site builder you choose should also improve the process of updating your site, making changes more manageable and less tedious. That way, you can keep your focus on the more critical aspects of your business.
There are many website builders to choose from, like WordPress, Shopify, Squarespace, and Wix. They each have their benefits and drawbacks, depending on your business's needs and goals.
If handling development isn't for you, many companies will develop on these platforms for you. They can use features like Advanced Custom Fields in WordPress that allow you to customize more content within your layout than if you were to use a pre-built theme.
Which website builder is right for you? Here is a helpful guide for picking the right website builder that will grow with your business.

---
2. You Have a Poor User Experience
Stepping away from development, you need to decide if your site is actually engaging visitors. Is your website difficult to use, hard to navigate, or just unappealing to look at?
Are you comfortable that your site is a statement of your brand? Worse, are you embarrassed to send people to your website?
What you should look for when evaluating user experience:
Is your navigation bar too crowded?
If someone came here looking for something specific, how many pages would they have to visit to find it?
Are there big blocks of text on your web page?
Updating your website design is an excellent opportunity to assess whether or not your website is aligned with your sales and marketing strategy. If you now have a social media presence, are you displaying that on your site?
What kinds of interactions do you want to have with your customers? It's important to guide visitors through your site, giving them easy directions to find what they are looking for.
If you have a primary product or service you want to promote, a call to action on your homepage is a great way to do that. Persona funneling is another effective way of getting different groups of people to their goal.
What are the goals of people visiting your site? Documenting your user's intent is a great start to simplify the navigation to a few key areas without getting bogged down in a massive header.
Your website is a marketing tool, and there are plenty of ways to make your website work for you. If you want to learn more about creating leads from your website, read our full lead generation guide to see all the different ways to drive more leads through your website.

---
3. Your Site isn't Responsive
What is a responsive website? Well, it's how well your website "responds" to different devices and browsers.
According to a study by Perficient Digital, 58% of website visits were from mobile devices (phones or tablets) last year. This statistic is hard to ignore. More of your potential visitors are coming to your website using their phones, and you need to be ready to turn those taps into conversions.
Things to look for:
What does your site look like on mobile?
Does your content reorganize when viewed vertically or horizontally?
Does your navigation bar change when you view it on your phone?
Does your site look different on Safari than it does on Google Chrome?
Are your font sizes legible on mobile devices?
Phones come in lots of shapes and sizes, with different aspect-ratios that change the way your website looks. Even excluding mobile devices, different size computer monitors can change the way your site is viewed too. Some people have ultra-wide 34" gaming monitors, and some people are working from their 12" laptop.
In addition to screen size, your website needs to work across different kinds of browsers. Some browsers support certain features, and some don't. A good, responsive site will make a more consistent looking website across all devices and software. After all, you have to meet your customers where they are!
A responsive website is no longer a requested feature; it needs to be a priority for businesses. If you want to keep your visitors, your website doesn't just need to adapt – it needs to look good doing it.
To see how responsive your website is, head over to Browserstack, a tool that allows you to view how your site looks on thousands of browsers and devices.

---
4. Your Site is Outdated
When was the last time your website was updated? If you can't remember, it may be time.
When your website was built can play a big part in site performance and user experience.
Like any other language, computer web design languages have old-fashioned terms we don't use anymore. Not updating your code could mean that some of your features will stop working, which is not "bodacious" for your business.
This is especially true if your website uses Adobe Flash, which has been widely unsupported by browsers for the last few years and will be completely phased out by 2020, according to TechCrunch. If you are using Flash, you may consider converting any necessary animations to CSS. This is a lightweight and search engine-friendly way of adding dimensions to your website.
On top of replacing these older features, you need to think about the security of your website. If your website doesn't have an SSL certificate, your visitors may see something that looks like this: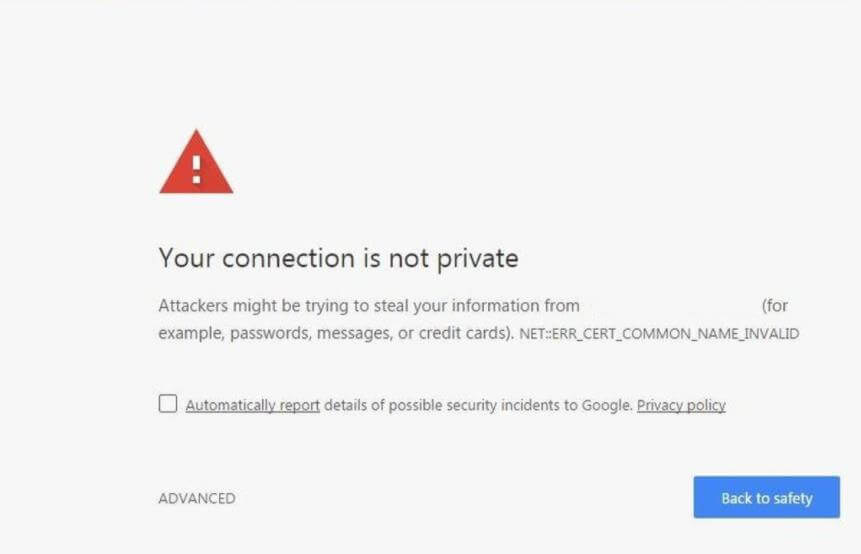 Here's how often you should update your website:  
Every 3 – 5 years.
Updating your back-end code allows you to use newer, lighter-weight features that play nicely with different browsers and improve your site speed. It also ensures that any of your existing features are secure and can help protect your site from hackers.

---
5. You Have Poor Site Speed
There are a lot of factors affecting your website speed. Every second counts, literally.
On average, it takes 15 seconds to load a web page on mobile
53% of mobile visitors leave a page that takes longer than 3 seconds to load
So what can you do?
The easiest thing you can do is compress your images. The smaller your images are, the less time (and data) your page will take to load.
Many development platforms have plugins that will do this for you for a fee, but if you don't want to shell out your hard-earned cash, we recommend you use a free, lossless compression tool like TinyPNG. These tools ensure that your pictures stay as clear and sharp as the originals while also reducing file size.
Another way to improve loading time is to double-check any third-party scripts on your site. Each one slows down your website a little more, which can do more harm than good. Certain scripts, like Google Analytics, are beneficial, but it's always good to review these every couple of years. It's important to make sure there's nothing unnecessarily bogging down your site.
P.S. Check out InTrack for real-time updates via email + Slack when issues arise with your tracking scripts.
Site speed is also important in the eyes of Google. The search engine uses complicated algorithms to decide which websites people see when they're browsing. If your site loads slowly, Google will prioritize other sites over yours.
Several services can help you analyze your most significant opportunities for improvement in site speed. Some great tools for this are Google's PageSpeed Insights and Pingdom Website Speed Test.

---
6. You are Getting Poor Analytics Results
Although this is not an article about SEO, it is important to stay on top of your Google Analytics results.
Are you getting the right kinds of visitors to your site? It's not all about the number of visitors to your website; it's more important to know how your visitors are interacting.
There are three major red flags: 
Low Average Session Duration
High Bounce Rate
Few Goal Conversions
Average Session Duration shows how long people are staying on your site each time they visit. A healthy session duration is between 2 and 3 minutes. If you are struggling to get people to stay on your website, you should consider how to engage your viewers. You can reorganize your formatting to increase reading flow, add video, and break up large pieces of text with callouts, quotes, or images.
Your bounce rate shows how often someone comes to your site and then leaves without interacting with the page.
The bounce rate shows you how relevant your website is for people who are visiting. The lower your bounce rate, the better, but 40-50% is about average. Improving your bounce rate often starts by determining which pages people are bouncing off of the most. Then you can focus your efforts on improving the pages that suffer the most.
If you are having difficulty getting goal conversions (like newsletter subscriptions, contact form submissions or online purchases) on your site, you should reconsider where you are placing your calls to action. A heatmap creator like Hotjar can help track where your site interaction is happening. These tools can give you valuable intel on how far people scroll, where their cursor hovers the most, and where they click the most often.
At Inter, we are pros at helping businesses find their stride when redesigning their website. We provide data-driven recommendations for our clients that can improve business exponentially. Take a look at how we helped First Editing increase goal completions by 118% with a website redesign.
---
Conclusion
If this seems like a lot of information, it's ok. Take a breath and remember:
You are not alone.
As technology gets more advanced, it's also easier than ever to learn and get involved. There are so many resources available to help you grow your business. It's also easier than ever to get connected with an expert who knows how to help.
Ready to get serious about your website? Learn about our web development services to see how we create stunning websites that outperform your best salesperson.
Need some more great advice? Fill out our Get Started form to schedule a call with one of our experts to see if we're the right team to help you out.
Prefer to steal our best marketing tips? Sign up to receive our monthly insights – one monthly email jam-packed with the best content that our team puts together every month.
SCALE YOUR ORGANIC TRAFFIC
Subscribe to our monthly newsletter