You can't create a website unless you have a domain name. And you can't make your site visible to the world until you have a host. So, it makes sense that many website builders choose hosting services from the same company that they register their domain names with.
But with so many hosting companies and domain registrars to choose from, how can you be sure that you're picking the best one?
If you've started doing your research to figure out which host to pick, there are two names that you've probably seen pop up over and over again in your Google searches:
GoDaddy and Namecheap.
GoDaddy has been around since 1997, and it's one of the most well-known domain name registration services in the world. They manage an impressive 76 million+ domains. And while they may be one of the biggest, they're certainly not your only option.
Namecheap has been in business since 2000. To date, Namecheap manages over 10 million domains. They certainly don't have the biggest piece of the pie, but 10 million domain registrations is nothing to sneeze at.
But aside from being two of the biggest ICANN-certified domain registrars, GoDaddy and Namecheap also provide hosting services. And that's what we're talking about today.
Which host is better? Which is faster? Which one has the most storage, the best support, and the best pricing?
Keep reading for our full Namecheap vs. GoDaddy comparison and to find out which is the better host.

---
Hosting Options
Like most hosting companies, both GoDaddy and Namecheap offer a variety of plans and options, depending on your needs.
GoDaddy offers a dedicated hosting platform as well as shared hosting, where you can share a server with other clients and other sites.
They also provide four tiers of WordPress optimized hosting, and four different VPS plans for web developers managing multiple websites that have special server configuration needs. GoDaddy also offers email hosting.
Namecheap provides similar options, including WordPress hosting, shared hosting, reseller hosting, email hosting, and VPS hosting. And if you need a dedicated server, no problem!
Every new domain name you buy on Namecheap includes free DNS hosting. If you happen to have a domain name that doesn't already have DNS hosting, you can buy it through Namecheap.
Both hosting companies offer Windows-based and Linux-based hosting, though Namecheap does not provide customer support for Windows servers. If you want Windows hosting through Namecheap, you'll need to install and troubleshoot it 100% on your own.
When it's time to decide what type of hosting you need, both GoDaddy and Namecheap provide plenty of options. They're also both really good at guiding clients into choosing the plan that's right for them.
---
Downtime
Downtime (or uptime, if you're a glass-half-full kind of person), is one of the most important things to consider when choosing a host.
After all, the whole point of having a website is to get visitors that turn into followers, subscribers, or customers. For that to happen, you need your site to be functioning at optimal levels at all times.
The more downtime your site experiences, the more likely you are to lose traffic. And even a small amount of downtime per day can add up to big losses at the end of the year.
Let's say your site has 99% uptime and is only down 1% per day. That's 14.4 minutes per day. In a year, that's over 87 hours of downtime. So even if your site only gets one click per hour, you could potentially end the year with 87 fewer subscribers, readers, or customers. No bueno.
So what uptime rates do GoDaddy and Namecheap guarantee? Here's how they stack up:
Both companies guarantee 99.9% uptime, but that's not always the case. According to the results of an uptime test by Down.com, GoDaddy has an average uptime of 99.96%. In this study, it ranged from 94.72% up to a perfect 100%. Their data shows that new sites sometimes have problems, but after about a month or so, uptimes tend to improve. Overall, 99.96% is a respectable average.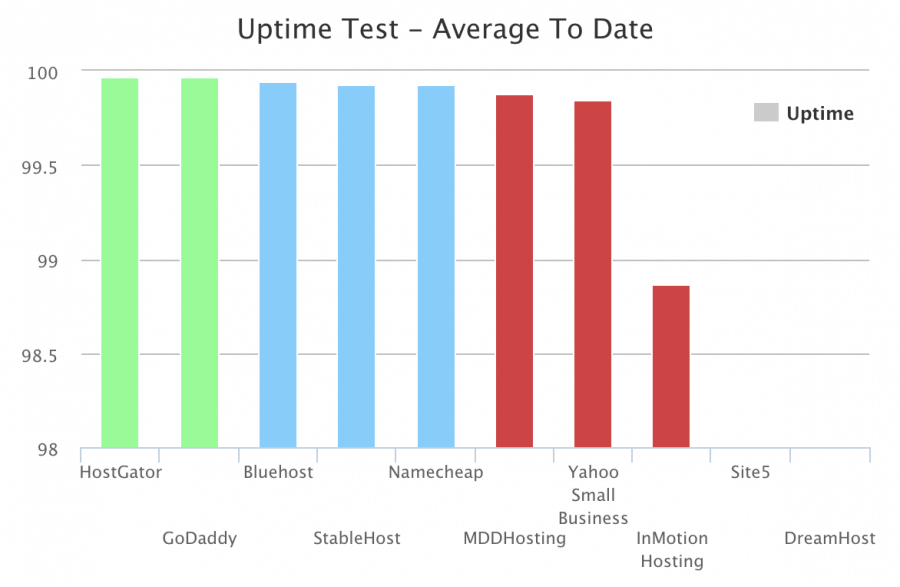 Image credit to Down.com
Namecheap performed slightly worse in this same test, with an average of 99.93% uptime and a low of 92%.
In this experiment (which tracked uptimes for 60 straight days in 2019), Down.com reports that the only host with better uptime was HostGator. HostGator won over GoDaddy by a nose, with an uptime rate of 99.968%.
P.S. Want to receive real-time notifications when your site goes down? Check out InTrack today.
---
Pricing
How much you'll pay for web hosting varies considerably — it's all dependent upon what type of site you're running.
Whether you're a part-time blogger or you run the e-commerce site of a major corporation, you'll find affordable options with both of these hosts.
Here's What You'll Pay for GoDaddy Hosting
GoDaddy lets you choose from several different tiered service levels over a variety of different hosting plans. They offer basic, deluxe, ultimate, and e-commerce plans for most of their service options.
Running a simple site on WordPress? It will cost you $6.99 per month for the basic plan. If you need the power to host an e-commerce site on WordPress, you'll pay $15.99 per month. Need to host more than five sites? Pro plans start at $24.99 per month.
If you have a starter site and don't need WordPress hosting, GoDaddy's most affordable plan costs $4.49 per month. If you need your site to be able to handle high-res photos and video content, you'll want the "maximum" plan for $19.99 per month.
Need a virtual private server? VPS plans cost as little as $4.99 per month for a basic plan with standard RAM and go up to $99.99 for 8vCPU with high RAM.
With a self-managed VPS hosting plan, you'll receive 3x the speed plus unlimited traffic to your site. With a fully-managed VPS plan, you'll also get five free site migrations, one-minute interval monitoring, and unlimited service requests.
All of GoDaddy's annual hosting plans include a free Office 365 email account for the first year, plus a free domain.
Migrating your website to a new host? Learn how to do a 
website migration
 without losing your SEO.
The Cost of Namecheap Hosting
If you only need hosting for a basic site, Namecheap's starter plan will cost you just $2.88 per month. Shared hosting plans suitable for small businesses start at $8.88 per month, while VPS hosting plans start at $14.88.
There's no question that Namecheap is more affordable than GoDaddy. But, it's important to consider what these affordable plans actually include.
The top-tier option from Namecheap is their $24.88 per month Quasar VPS hosting plan. This plan features 4 CPU cores, 6GB RAM, and 3,000GB Bandwidth. The comparable GoDaddy plan will cost you $39.99 per month, with 4 CPU cores, 8GB RAM, and 200GB of SSD storage.
Namecheap will also throw in a free domain (for the first year) with an annual subscription to a shared or VPS hosting plan.

---
Support
When you're building a website (or you run into problems with a site that's already up and running), having good support can be the difference between resolving your issue easily and wanting to bang your head against the wall.
GoDaddy and Namecheap both offer a variety of support options, so you won't have to take your frustrations out on that stress ball sitting on the corner of your desk.
Namecheap is lacking in one area: it doesn't offer any sort of phone support. If you're the type who likes to get a live human on the phone when you need to resolve an issue, Namecheap will not be there to help.
They do, however, have a 24/7 live chat option and a community forum where you'll find the answers to most common questions.
GoDaddy, on the other hand, does offer 24/7 phone support, depending on the country you're in. If you're in the U.S., Canada, Australia, or the U.K., you won't have a problem getting someone on the phone. (Check this GoDaddy support list for a complete list of supported countries and their available phone hours).
Don't care to speak to someone? Live chat support is always available, as are forums, video tutorials, and lots of other publications that can help you resolve most issues on your own.

---
Backups
It's safe to assume that you already know how critical backups are. Here's how the two companies describe their backup policies.
Namecheap's Knowledgebase states the following:
"Each server's data is backed up once every 3-7 days depending on the account type and server's specification. We would like to note that these backups are made for server restoration purposes only. It is your responsibility to maintain local copies of your sites' web content and information."
GoDaddy, on the other hand, says this:
"If your website is hosted with GoDaddy, we automatically configure the backup for you. Otherwise, once you have your backup configured, your website files and database/s will be backed up daily, weekly, or monthly depending on the frequency you choose."
Both companies offer daily backups as an upsell. With Namecheap, this comes included in a premium shared hosting plan. With GoDaddy, daily backups and one-click restore options can be added to a variety of hosting plans for as little as $2.99 per month.

---
Storage
With any web hosting provider, the amount of storage you'll receive depends on the plan you choose (and how much you pay for it). Limited amounts of storage always come free with a basic subscription, but the more you need, the more you can expect to pay, regardless of the host.
The most basic and affordable GoDaddy hosting plan provides 100GB of storage capacity. And that just won't cut it for some websites. Their most expensive managed support VPS plan offers 400GB SSD storage, and if that's not enough, you can upgrade to an unlimited amount.
The cheapest Namecheap plan offers 20GB of storage, but they also allow you to upgrade to unlimited storage at an extra cost.
Want to know where your data will be stored? GoDaddy has servers in the U.S., Europe, and Asia. Most of Namecheap's servers are located in the U.S., though they do have some in the U.K.

---
GoDaddy vs. Namecheap: Which Is Better?
So which is the better hosting company, GoDaddy or Namecheap?
That depends upon the type of site you're running and how much of your budget you can dedicate to hosting.
If cost is your biggest concern, Namecheap is (as the name suggests) the cheaper option. But is it the better option? It all depends on what you're looking for.
Before choosing a host for your website, do your research. Compare prices, uptimes, and speeds. Know how frequently your site will get backed up. Think about the amount of storage you'll get and where your server will be located.
And remember, Namecheap and GoDaddy are just two of dozens of hosting companies out there. If neither one meets your needs or budget, keep searching. DreamHost, HostGator, Bluehost, or InMotion might be better options for you.
---
Here's the Bottom Line:
GoDaddy and Namecheap are both solid options, especially if you're running a basic site. GoDaddy has better uptime. Namecheap is more affordable. Both offer email hosting, VPS plans, shared platforms, and dedicated hosting plans.
Keep in mind, both GoDaddy and Namecheap are domain name registrars at heart. If you register your domain name with one of them, choosing them as your host may seem like the easiest option (and you might be right). But easy isn't always better.
Sometimes, you've got to do some extra leg work. Before you pick a host, learn about all your options so you can figure out which one is the best choice for your biz.
And if you're looking for help building out your website, we'd love to talk. Contact us today for a free estimate.
SCALE YOUR ORGANIC TRAFFIC
Subscribe to our monthly newsletter